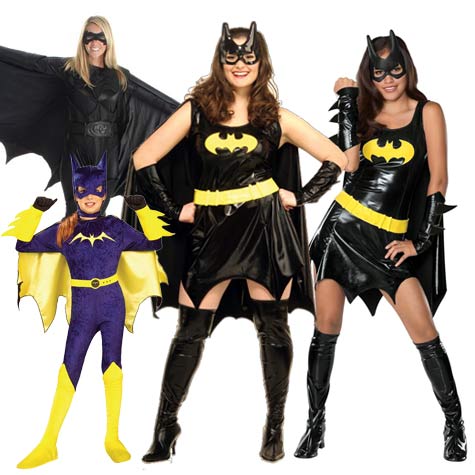 This Halloween girls can join the Batman fandom with their own feminine style of Dark Knight's Halloween costume. You can look both cute and super heroic with these different styles of Batgirl Halloween costumes. The sexy Batgirl dress outfits are available for girls, teens, and young women. The new plus size edition are now also for sale so all women can enjoy this Halloween costume. If you are looking for a top cosplay quality costume, try the new Grand Heritage's Classic Batgirl costume from the cult TV show from 1966 Batman, or Supreme Batgirl costume from the '90s movie Batman and Robin. It features the same dark aesthetic theme as the Dark Knight costumes. So if you need a Batgirl Halloween costume idea this year, you have come to the right page.
2022 Batgirl Halloween Costume Ideas
1966 Batgirl Costume

Inspired by the hit 1966 Batman television series, this is the high quality classic Batgirl costume from Rubies Grand Heritage collection. This cosplay costume features her iconic purple jumpsuit with batgirl emblem, yellow cape, utility belt, gloves and headpiece. Available in women sizes small, medium, and large. Check out today's special low price!

---
Deluxe DC Superhero Girls Batgirl Costume

DC Super Hero Girls is a new animated webseries featuring female superheroes as teenagers. This brand new Superhero Girls look of Batgirl is inspired by this show. This is the deluxe version that girls will love.

---
Adult Sexy Batgirl Costume

Dress up as Batman's sexy sidekick, Batgirl! This attractive female super hero Halloween costume includes a sexy black dress with Batgirl emblem on chest and cape. Also, this outfit includes a black vinyl mask, yellow utility belt, black gauntlets, and boot tops. Women's dress sizes x-small, small, and medium.

---
Deluxe Child Batgirl Costume

Your daughter will love this little girl version of the Batgirl costume. Like its adult counterpart, this little superhero costume includes a black dress with bat emblem and cape, glovelets, belt, boot cover, and bat mask. In girl sizes small, medium, and large.

---
Plus Size Batgirl Costume

This full figure Halloween costume for women is the official Batgirl costumes from DC Comics and Rubies. This cute plus size outfit includes dress with cape, eyemask, glovelets, belt, and boot tops. Plus Size 14-16.

---
Super Deluxe Batgirl Movie Costume

Alicia Silverstone played Batgirl in the 1997 Batman and Robin movie. If you want a movie costume like her outfit, you will want to get this one currently on sale at a special low discount price. This collector's Batgirl costume includes a full leotard corset, pair of gauntlets and shoulder pieces, bat emblem, cape, boot tops and bat eye mask. Available in adult women dress sizes: Medium (10-12) or Large (14-16). An officially licensed Batman & Robin costume by Rubies.

---
Child Pink Batgirl Dress Costume

If your daughter prefers a more feminine superhero Halloween costume, this pretty in pink Batgirl Halloween costume includes a beautiful pink dress, matching mask, cuffs, belt, and boot covers. Officially Licensed. Available in child dress sizes x-small (2-4), small (4-6), and medium (8-10).

---

---
Child Velvet Batgirl Costume

This Gotham Girls Batgirl Halloween costume is made for child sizes small, medium, and large. This superhero girl outfit includes a beautiful purple velvet jumpsuit with boot tops, belt, gauntlets, cape, and headpiece.

---
Batgirl T-Shirt Costume Kit

This outfit is great for women who want to wear a fast, easy to put on and comfortable cheap Batgirl costume on Halloween night. This kit features the t-shirt with printed batgirl pattern, black batgirl mask, and yellow cape. All for a great sale price.

---
We hope these outfits gave you some good Batwoman or Batgirl costume ideas for Halloween. If you are looking for other kid, teen, and adult Batman and superhero costumes for Halloween, browse through our menu and shop for other great deals on Joker, Batman, Robin, Catwoman, Poison Ivy, and other Halloween costumes.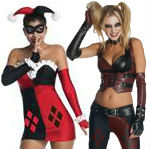 More Harley Quinn Costume Ideas!
If you are shopping for other Halloween costumes based on Gotham City's most notorious female villain, check out our Harley Quinn page by clicking on the image to see a variety of different dresses available to women and teens for this season!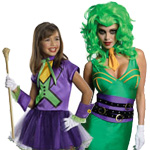 See New Girls Joker Dress Costumes!
If you are a fan of the Joker character, now women and girls can both dress up in the new female Joker Halloween costumes released this year! Check out these outfits!