For this exciting season of Halloween, if you want to disguise yourself as one of the most notorious female villains from the Batman movies and comic books, you will want to become the deadly but beautiful Poison Ivy. This deadly beauty is one of Batman's most infamous female nemesis and Harley Quinn best girlfriend. For this Halloween, you can choose between the more comic book style outfit from the DC Comic's Gotham Girls Collections or the sexier Poison Ivy dress. Most of them will capture the attention of guys at your Halloween party. Plus size Poison Ivy costumes are now also available for full figure women. Also due to the popularity of the new animated cartoon TV show, DC Super Hero Girls, you can now get a girls Poison Ivy costume for kids! Check out the dresses we have listed below. The notorious Poison Ivy maybe deadly but for Batman, she's easy on the eyes. Don't wait too long to shop for these costumes which sell out quickly during the Halloween season.

Lethal Beauty Poison Ivy Costume

This sexy green vixen dress will transform you into Batman's ultimate sultry rival for Halloween. If you want looks that kill, dress up in this hot outfit. Available in several adult women sizes ranging from small to plus size!

---
Deluxe DC Superhero Girls Poison Ivy Costume

DC Superhero Girls is the new popular animated series about teenage superhero girls in high school. This child costume is inspired by Poison Ivy's character in the cartoon. This outfit is available in girl sizes small, medium, and large.

---
Plus Size Lethal Beauty Costume

This popular Poison Ivy Halloween costume is now available for a full figure woman who needs a more comfortable size. Available in women plus sizes: 1X, 2X, and 3X.

---
Sexy Red Wig

This sexy long red character wig will look fantastic on your Poison Ivy Halloween costume.

---
DC Comics Poison Ivy Costume for Women

If you prefer the traditional DC Comics version of Poison Ivy, you can dress up in this classic outfit!

---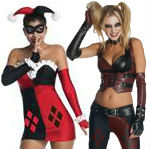 Harley Quinn Costume Ideas!
If you are shopping for more Halloween costumes based on Gotham City's most infamous female villain, check out our Harley Quinn page by clicking on the image to see several different types available to teens and women for this season!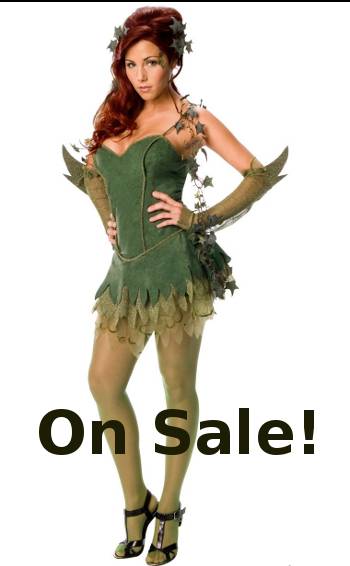 Poison Ivy's real identity is Pamela Lillian Isley in the DC Comics books. She is one of Batman's most nefarious villains, making her debut back in June 1966 in the comic book Batman #181. Pamela proudly distinguishes herself as one of the Earth's most infamous Eco-terrorist, who used her scientific knowledge of plant toxins and developed toxins in her own blood stream to help her do series of crimes in Gotham City. The crimes that Poison Ivy normally commits are against irresponsible people that are trying to hurt the environment. For example, she would poison workers that were planning on cutting down trees to build homes. In 1997, the movie Batman & Robin featured Kill Bill's actress Uma Thurman whose stylized portrayal created a more campy Poison Ivy character that inspired a line of colorful cartoonish Poison Ivy costumes that reflected the campiness of the villain. The character also appeared in the television series Batman: The Animated Series, and before that the 1960's TV show Batman. For the cartoon series, the voices of Poison Ivy was performed by both Diane Pershing, and Piera Coppola. Poison Ivy is ranked 64th in the IGN's top 100 Comic Book Villains of All Time and remains as a favorite Halloween them among female Halloween costume shoppers.
There are many Halloween theme websites where you can search for good Poison Ivy costume ideas. Another place where you can shop for these costumes are in local costume shops right before Halloween. However, they usually run out of stock. But fortunately you have the internet to come to the rescue. The easiest and cheapest place where you can find a Halloween costume would be the Internet. There are many costume sites on the Internet that sell many different costumes including Poison Ivy costumes but fortunately we did the job for you and listed the best options at the best prices.