Christopher Nolan's Batman sequel, The Dark Knight Rises, brings one of Gotham City's most infamous feline villains The Catwoman out of the comic books and back onto the movie screen. Not surprisingly, she is a popular character for Halloween and now you can dress up as Anne Hathaway's Catwoman for this season! You can also shop for other versions of Catwoman Halloween costumes for women and girls. There are a variety of different Catwoman costumes for sale such as the ones from Halle Berry's movie Catwoman and Michelle Pfeiffer's '90s film Batman Returns. The classic comic book style Catwoman costumes include the Gotham Girls DC Comic's edition of Catwoman available in both women and children sizes.
Catwoman Halloween Costume Ideas
Classic Catwoman from the '60s Batman TV Series

If you remember Julie Newmar and Eartha Kitt's classic Catwoman characters in the 1966 Batman TV show, you will want to play homage to them by dressing up in this new officially licensed 60s Catwoman costume. This is a high quality costume from the Grand Heritage collection. Check out today's special low price!

---
Sexy Catwoman Costume – Dark Knight Rises

Dress up as Anne Hathaway's sexy Catwoman aka Selina Kyle in this deluxe Dark Knight Rises Catwoman Halloween costume by Secret Wishes, featuring a long sleeved black faux leather jumpsuit, belt, gloves, eyemask, and headpiece. Women sizes x-small to large available.

---
Deluxe Child Catwoman Costume

This is the deluxe Catwoman costume for girl inspired from the movie The Dark Knight Rises featuring a black jumpsuit, cat eye mask, gloves, belt, and shoe covers.

---
Catwoman Movie Costume – Batman Returns

Michelle Pfeiffer's version of Catwoman from the movie Batman Returns. This version of the cat costume features a jumpsuit with stitch line details, headpiece with cat ears, belt and boot tops. This movie costume is available in one size fits most adult women.

---
Fierce Feline Costume

If you are looking for a more stylish sexy catsuit, take a look at this cat burglar costume. This features a jumpsuit with spandex stretch knit and a shiny wet-look finish. It also includes a headband with cat ears and sequin felt eye mask.

---
Cat Eye Goggles

If you want to dress up like the original Catwoman in the DC comic books, you will want to wear these Cat Eye Goggles with your costume.

---
Grand Heritage Catwoman Movie Costume

Impress your fellow Batman movie fans with this official super deluxe Catwoman movie costume inspired by the new Dark Knight Rises movie! This set includes a high quality catsuit, mask, goggles, and belt. Women sizes small, medium, and large.


---
Teen Catwoman Costume

This Catwoman movie costume is for older girls who need a small or medium girls tween size outfit.

---
Catwoman Mask with Goggles

Enhance your catsuit with his Catwoman mask with goggles to transform yourself into Selina Kyle's The Cat character from the movie The Dark Knight Rises.

---
Black Catwoman Mask

If you already have a black bodysuit, you can add this Cat mask to complete your costume and go on the prowl on Halloween night!

---
Faux Leather Whip

No Catwoman costume is complete without her whip. Discipline your rival Batman on Halloween night with this faux leather whip.

---
Catwoman Wig for Women

Long brown wig for your Anne Hathaway's Catwoman costume. Made for adult women.

---
Child's Catwoman Costume

From the movie The Dark Knight Rises, this is the girl's Catwoman Halloween costume which includes a black cat jumpsuit, belt and mask. Sizes small, medium, or large.

---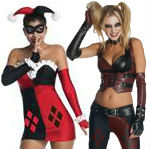 Harley Quinn Costume Ideas!
If you are shopping for other Halloween costumes based on Gotham City's most infamous women villains, check out our Harley Quinn page by clicking on the image to browse through the new different types of costumes available this season!
Amongst superhero fans, the Catwoman is one of the most famous or notorious female villains from the Batman comic book, movies, and television series. This popular super villainess has been played by numerous famous actresses such as Eartha Kitt, Lee Meriwether, Julie Newmar, Halle Berry, and Michelle Pfeiffer in movie and television adaptation of the DC Comics Batman stories. The character of Catwoman was created by Bob Kane and Bill Finger. She was known as Selina Kyle who made her debut in the 1940 comic book Batman #1, playing a mysterious cat burglar who became Gotham City's number one jewel thief who loved high stake thefts. Her character was a femme fatale type that attracted Batman but this attraction only brought trouble for the Dark Knight. Catwoman is just one of many female villains of Gotham City. Check out our other women outfits such as Poison Ivy and Harley Quinn costumes on our other pages on this website.