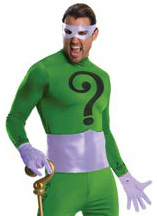 One of Gotham City's most mysterious and puzzling criminal is the infamous Riddler. Back in 1948 in issue #140 of Detective Comics, this enigmatic villain was introduced to comic book fans as Batman's new nemesis. The villain's alter ego is Edward Nigma, a diabolical criminal mastermind who is obsessed with word games, puzzles, riddles, and ultimately messing with people's head. In 1966, characters from the Batman comics were adapted into a live-action TV show called Batman which became a cult hit for its humor and campy stories. The standout stars include the sinister genius Riddler played by Frank Gorshin. After the 60s Batman television series end, it took almost three decades before another actor Jim Carrey to take over the role of this super villain in the 1995 movie Batman Forever. Despite his absence in the newer Batman movies in the past two decades, the enigmatic supervillain is still a popular character among superhero fans who want to dress up as Batman's Riddler for Halloween. Now you can even get the classic 1960s Riddler costume from the campy Batman television series. So if you want to pay homage to an original Batman foe, try out this Riddler Halloween costume which which features a green outfit with question marks printed and a face mask.
Miss Riddler Women's Costume

Add a hot feminine twist to the Riddler! Now the ladies can have fun wearing this new women's Riddler costume dress for Halloween!


---
Child Riddler Costume for Boys

The popular kid Riddler Halloween costume is back in stock. It features a green jacket, green tie with question marks, green hat with question mark, and black eye mask! Available in boy sizes medium, or large. Only available in limited numbers so buy one while you can!


---
Mens Riddler Costume

This the the formal Riddler costume for adults, featuring a stylish green suit with question mark imprints! Available in men sizes large or extra-large.


---
Girl's Miss Riddler Costume

Now girls can be The Riddler for Halloween too! This child Riddler girl costume features a beautiful emerald green dress with tutu and short sleeve top in a question mark design

---
Riddler's Cane

Complete your puzzling nemesis' costume with the official Riddler Cane by DC Rogues Gallery.


---
Due to the popularity, there are limited stock of the Riddler Halloween costumes for sale so get them while you can. The official Riddler costumes are available for children, men, and even women! So check out these Riddler Halloween costume ideas or custom made Riddler cosplay costume ideas listed on this page.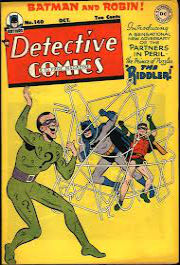 The Riddler is instantly recognized by Batman fans by the villain's iconic green suit with prominent black question marks. The Riddler costume has gone through many revision after being featured so many times in the comic books, television, cartoons, and movies. In the comic books, the super villain appeared as Batman's arch nemesis in DC Comic's Detective Comics Issue #140 in 1948. The character was originally created by artist Dick Sprang and writer Bill Finger. In his initial appearance The Riddler appeared in a tight green jumpsuit showing off his physique. He wore a face mask concealing his identity and his green unitard was riddled with noticeable black question marks. This insignia represented the character's obsession with word games, riddles, and puzzles which he would use to tease Batman and the authorities when he commits his crime. The Riddler would enjoy showing off his intelligence in these riddles which Batman would pay attention to because he would offer clues that would allow the Dark Knight to solve his crimes. Despite the fact that leaving the clues would eventually lead to his downfall and capture by Batman, the criminal cannot stop himself because it is his compulsion that leads him to do this gimmick. The Riddler would behave like a prankster but he would use his evil sense of humor to disguise his psychotic murdering behavior and insanity. In later issues, more personal details about the Riddler's background and personal life came out. For example, his real name is Edward Nigma who grew up as a victim of abusive father that lead him to a stray path to a life of crime. His need to feel important and mentally superior drove him to seek out Batman to because one of his arch nemesis in Gotham City.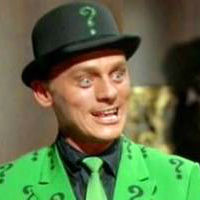 Later the comic book character was adapted into the 1960's Batman television series which featured a more campy version of the villain portrayed by actor Frank Gorshin who actually won an Emmy for his role. Frank Gorshin wore different version of the suit. The first version was more faithful to the original comic book character with the green jumpsuit with black question mark and face mask. Then he wore a more sophisticated green tuxedo with black question mark and black hat. He didn't hide his face as much, often not wearing his face mask unless committing a crime. During Batman's second season on television, a different actor John Astin took over the role as the Riddler because the program's producers refused to a salary increase demanded by Gorshin's agent who saw the actor's popularity grow among Batman fans. After complaints from viewers regrading the actor's absence on the show, the producers finally gave in and returned Frank Gorshin to season 3. The television show only lasted three season but left a lasting impression in American pop culture for decades and still runs in syndication successfully to this day on TV.
The Riddler also became a popular animated character in many of DC comic's cartoon series that aired during the late '60s and '70s, fighting Batman's super friends and the Justice League of America. The villain also appeared in the updated Batman animated series that aired during the '90s. Super hero fans will most likely remember the Riddler being portrayed by comedic actor Jim Carrey in the 1997 movie Batman and Robin directed by Joel Schumacher. The character once again became campy and wore a green unitard riddled with black question marks.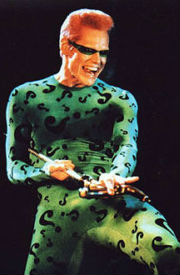 The movie which was a sequel Batman Forever did well at the box office but it was panned badly by critics, ending the franchise until it was later resurrected and rebooted by Christopher Nolan in Batman Begins (2005). Rumors that the Riddler may return in Nolan's final Batman sequel The Dark Knight Rises (2012) surfaced on the internet but that was discredited once the movie's main villains, Bane and Catwoman, were leaked to press. Despite his absence in the current movie, fans still keep the character alive in comic book conventions, cosplay, and Halloween. A new line of Riddler Halloween costumes were produced this year for kids, adult men, and even women so everyone has a chance to dress up themselves as Gotham City's most infamous supervillain.
Frank Gorshin as The Riddler in the original 1966 Batman Movie